When the pandemic hit us all last March, our lives changed forever. I always believe good things can come out of bad. For instance, we have this magnificent, robust trails system now in Fort Wayne boasting over 100 miles of trails and I know that the bicyclist death of 40-year-old Ron Repka back in 2001, was what finally made me start that project with an amazing partner and board of directors and work on it for 9 years. (www.fortwaynetrails.com) I received two messages during the quarantine saying how thankful they were to be able to get out in the fresh air on the trails when shut up in their homes for so long. That was never a need we ever foresaw for the trails.
20 years later, Covid has wreaked havoc on our country and world, for over a year now. One of the good things that came of it in my opinion was more unstructured, downtime together. The cultural obsession with travel sports for kids even stopped. I was recently told by one young mother, "we really loved our family time together so much that we are not going back to that totally consuming, chaotic schedule again; maybe just one activity per kiddo at a time." To that, I say good for her and them! Maybe families will get to get off the bleachers more and back into their backyards playing games, or going on bike rides, boating, learning new lifetime sports, like golf. Speaking of golf, can you believe these post-quarantine stats from the WSJ?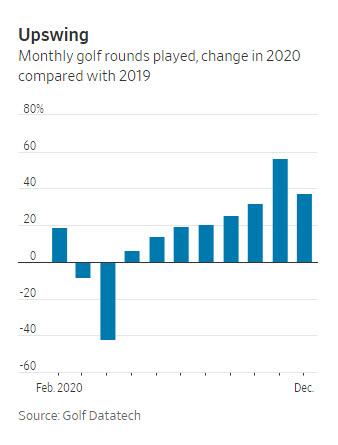 So my hope for everyone is to get back to the basics more with your families and if relationships are the most important thing in life as I believe, then we must make sure we balance our time mostly in that bucket vs structured team kids sports. Especially when only 2% of kids get college scholarships and even less make it to the pros. I think sports are so vital in raising kids but as with everything, too much of a good thing here can have diminishing returns for many families.
So here's to lots of backyard fun with your families and friends this spring and summer!